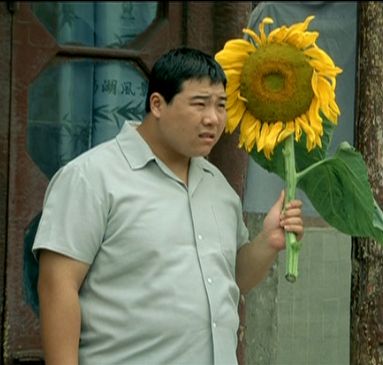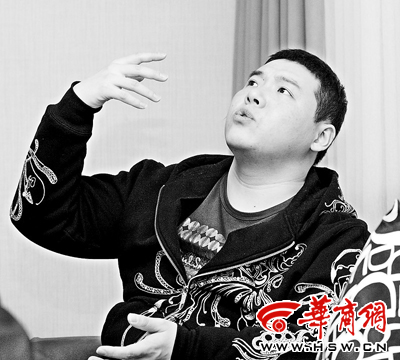 Actor Feng Li embroiled in 'Adding Fat Gate'.
For his health and career development, Feng writes in his blog that he does not want to be always the fat actor. After graduating from university, Feng Li gained 70 catties (1 catty= .6kg, so 80lbs?) for his debut in Peacock. After completing the film, he tried to lose weight for a year and a half. During this time, he suffered hypoglycemia and dizzy spells. Feng's doctor has advised him to lose weight. "I also want to lose weight. Being fat is very laborious." However, his management agency has contracted Feng not to weigh less then 110 kilos. According to his agreement, if he falls below 110 kilos, Feng will get a letter from the lawyers. His agency fears if he loses too much weight that he would no longer be recognizable.

Zhou Xun Crowned at Asian Film Awards
'Tokyo Sonata' best film at Asian Film Awards
Best actress went to China's Zhou Xun, who played a taxi driver searching for her boyfriend in "The Equation of Love and Death."
Japan shines at Asian Film Awards
Japanese cinema triumphs at Asian Film Awards in Hong Kong

Gallery of stars at the Asian Film Awards…
Fan Bingbing gallery
Michelle Yeoh gallery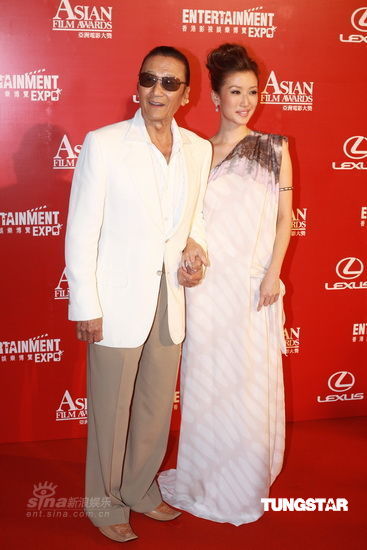 Patrick Tse and Jennifer Tse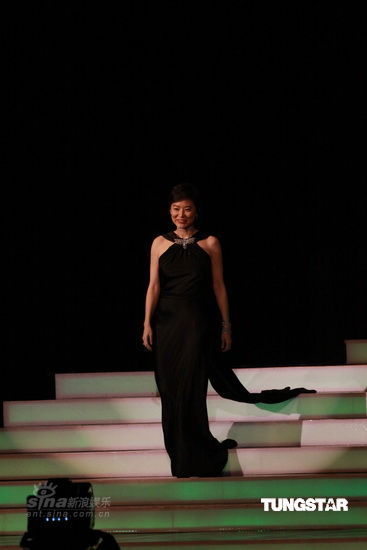 Brigitte Lin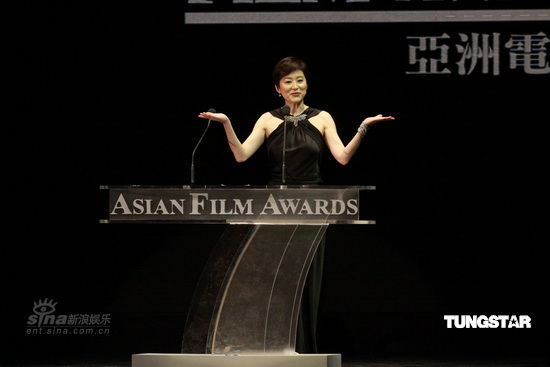 Brigitte Lin gallery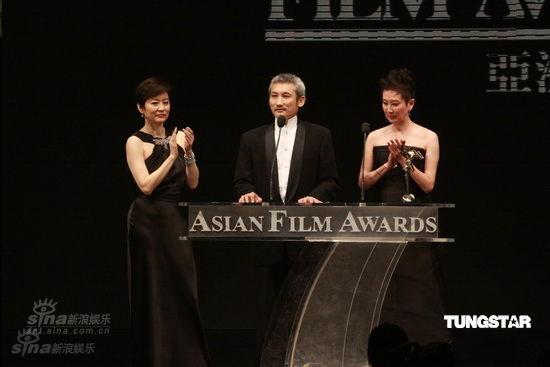 Outstanding Contribution to Asian Cinema presented to Tsui Hark and Nansun Shi
Jay Chou's "Ci Ling" begins filming
Screen Daily review - Dragonball: Evolution
Eat Drink Man Woman sequel, Mermaid, The Last Dragon
Hong Kong's Salon Films' pan-Asia alliance have announced new production projects including three projects from Taipei-based Zoom Hunt International
Dayyan Eng enlists Daniel Wu, Gong Beibi for Inseparable
Hit Singapore director Jack Neo plans ghost story triptych
China OKs Rape of Nanking pics
A couple of violent scenes had to be revised.

Exploiting Confucius for fun and profit
Golden age of cinema may show again, says producer Raymond Wong
Wong recalled that in 1993, 300 movies were in production at any given time compared to just 50 today.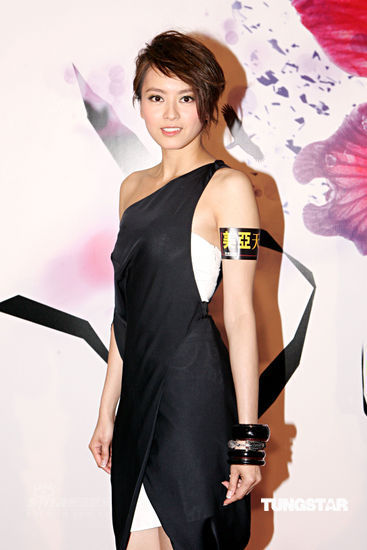 Gigi Leung to appear in horror film for first time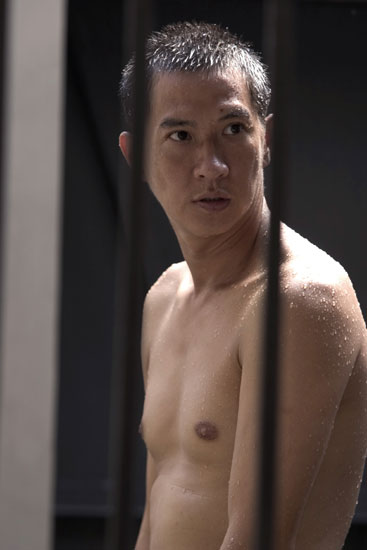 Nick Cheung has passionate scenes in Red River

Cast of Teddy Chen's Bodyguards and Assassins introduced
Roles: Leon Lai - the beggar, Donnie Yen - the gambler, Hu Jun - the assassin, Eric Tsang - the policeman, Nic Tse - rickshaw puller, Fan Bingbing - the concubine/mistress and Donnie Yen's ex-wife, Tony Leung Ka-Fei - the revolutionary, Simon Yam - the theatrical troupe impresario, and the central role of Dr Sun Yat-Sen? To be announced later…


Kung Fu Cyborg cast - Hu Jun, Gan Wei, Wu Jing, Ronald Cheng, director Jeff Lau, and Alex Fong(?)


In 'Cyborg,' Robots Fight Right



Zhang Ziyi arrives in South Korea under heavy security to promote Forever Enthralled

Li Bingbing promotes Energy Conservationa and Environmental Protection

Edison Chen's father, Chen Chak-Man filed for bankruptcy recently as a result of the current financial tsunami. Even before, until last year's 'sexy photo gate', Edison had been helping pay his father's debts.
Gillian Chung provides youths with Food for Thought
Zhang Ziyi on cover of sex disc
A pirated sex disc with Chinese actress Zhang Ziyi's photos on its cover is a hot favorite in the Hong Kong piracy market. Besides the beach photos that paparazzi took of her last year, in the disc are five other sex video clips unrelated to her.
A Hong Kong reporter found the disc which is currently retailing at HK$30 (about S$6) in the Hong Kong piracy market. Zhang's beach photos, taken by paparazzi and breached privacy rights, were used unscrupulously to solicit business.
The disc is exquisitely packaged in two layers of wrapper, a colored cardboard cover and a transparent case. Printed on the cover are her portraits and six classic photos in the beach series, in fine prints are the words "Zhang Ziyi Nude Photos". The inside cover also has a short summary of about 100 hundred words on Zhang's series of topless photos disseminated on the Internet.
81 photos of Zhang frolicking on a Caribbean beach with her boyfriend Vivi Nevo while they were on a holiday in January 2009 spread like wild fire on China websites. The photos showed Zhang baring her top and lying on the beach for a sunbath while Vivi "buried" his head into her butt.
A custom spokesperson said they will follow up with investigations should the copyrights owner of the photos decide to file a complaint. When found guilty, the infringer may be sentenced to a maximum of four years imprisonment and receive a fine of HK$50,000 for each infringed material. According to previous reports, an anonymous man has paid an astronomical price to buy the exclusive copyrights of these photos in Taiwan, Japan, Korea and America. For three months between Jan 9 to Apr 9, media in the four countries are not allowed to buy or publish the related photos. It was not reported if copyrights of the photos were bought in Hong Kong.
Carol Zhu Liqian prepare her dowry
Andy Lau marrying Carol Chu in end April?
Hong Kong Male Stars become "Male Star Stamp Collector" suspects
[One previous article indicated that Mark Cheng seemed to fit the profile which was more detailed]
Gillian Chung arrives in China with Edison Chen's father
Super Band Hits the Road
Stage Set for "Big Four" of Chinese Pop