Tony Jaa 'Ong Bak 2' in business
http://asianfanatics.net/forum/Tony-Jaa ... 05879.html
Andy Lau Might Marry Carol Zhu
http://english.cri.cn/3086/2008/12/05/1321s430198.htm
Yu Shaoqun wins praise in Forever Enthralled for his role of portraying young Mei Lanfang
http://www.chinadaily.com.cn/showbiz/20 ... 275443.htm
Forever ambiguous
http://www.chinadaily.com.cn/showbiz/20 ... 275424.htm
Fight to the finish
THE 45th Golden Horse Awards held in Taiwan sees a tough fight between top films from Hong Kong, Taiwan and mainland China
45th Golden Horse Film Award Nominees
>Best Feature Film: Cape No.7, Orz Boyz, Assembly, Ocean Flame, The Warlords
>Best Director: Wei Te-sheng (Cape No.7), Pang Ho-cheung (Trivial Matters), Peter Chan Ho-sun (The Warlords), Sylvia Chang (Run Papa Run)
>Best Leading Actor: Zhang Han-yu (Assembly), Liao Fan (Ocean Flame), Jet Li (The Warlords), Louis Koo (Run Papa Run)
>Best Leading Actress: Prudence Liew (True Women for Sale), Monica Mok (Ocean Flame), Karena Lam (Claustrophobia), Sandrine Pinna (Miao Miao)
>Best Supporting Actor: Ma Ju-long (Cape No. 7), Eason Chan (Trivial Matters), Hu Jun (Red Cliff), Leon Dai (Parking)
>Best Supporting Actress: Mei Fang (Orz Boyz), Lai Meng (Money No Enough 2), Niki Wu (Detours to Paradise), Nora Miao (Run Papa Run)
>Best New Performer: Chie Tanaka (Cape No.7), Johnny C.J. Lin (Cape No.7), Pang Chin-yu (Orz Boyz), Chiang Su-min (Hopscotch)
>Best Original Screenplay: Orz Boys, Winds of September – The Taiwan Chapter, The Warlords, Claustrophobia
>Best Adapted Screenplay: Trivial Matters, Assembly
>Best Cinematography: Cape No.7, Ocean Flame, The Warlords, Sparrow
>Best Film Editing: Winds of September –The Taiwan Chapter, Connected, The Warlords, Claustrophobia
>Best Art Direction: Ocean Flame, The Warlords, Parking, Red Cliff
>Best Make-up and Costume Design: Trivial Matters, Candy Rain, The Warlords, Red Cliff
>Best Action Choreography: Assembly, Connected, The Warlords, An Empress and the Warriors
>Best Original Film Score: Cape No.7, The Warlords, Sparrow, 12 Lotus
>Best Original Film Song: South of the Border (Cape No.7), Hero Chou (Kung Fu Dunk), Pang Pang (Drifting Flowers), Get Together (Miao Miao)
>Best Visual Effects: Assembly, The Warlords, Red Cliff, CJ7
>Best Sound Effects: Cape No.7, Assembly, The Warlords, Missing
>Best Short Film: The End of the Tunnel, Hopscotch, My Grandma, A Son
>Best Documentary: Erotic Float Dancers, This Darling Life, Up the Yangtze
>Outstanding Taiwanese Film of the Year: Cape No.7, Winds of September--The Taiwan Chapter, Parking
>Outstanding Taiwanese Filmmaker of the Year: Wei Te-Sheng, Li Long-yu
>Lifetime Achievement Award: Chang Feng
>Special Contribution Award: Huang Jen
http://www.star-ecentral.com/news/story ... sec=movies
Live Blog - 45th Golden Horse Film Awards
http://varietyasiaonline.com/content/view/7636/53/
Lai Meng is duly recognised as a best supporting actress contender at Taiwan's 45th Golden Horse Awards.
http://star-ecentral.com/news/story.asp ... sec=movies
Golden Horse Prize Presenter's List revealed; Peter Chan & Sandra Ng presenting 'Best Female Lead'
http://asianfanatics.net/forum/Golden-H ... 05636.html
Not nominated, Andy does not wish to attend Golden Horse Film Awards
http://asianfanatics.net/forum/Not-nomi ... 05670.html
Jackie Chan won't attend Golden Horse because of threats
(11/29/2008) Jackie Chan yesterday rushed from the plane to attend a
Hermes event. Jackie Chan will visit Beijing tomorrow to shoot ads and
attended the China Disabled People's Fund charity concert. Then he will
return to Guangzhou and participate in a concert with Jaycee Chan (Fong
Cho Ming). Next April he will work on the new film DAI BING SIU JEUNG
(BIG ARMY LITTLE SOLDIER), which he will personally produce. In addition,
reportedly Jackie Chan has received threats and will not attend this
year's Golden Horse Awards. Jackie Chan expressed on a television
interview that this year he intended to attend with the entire family but
he should not be able to. Hopefully next year he will be able to.
http://www.geocities.com/Tokyo/Towers/2038/081127.txt
Guei Lun Mei's character like Yang Lijuan (Andy Lau's stalker); Andy Lau rejected acting in 'All About Women'?
http://asianfanatics.net/forum/Guei-Lun ... 05904.html
Wu Jing's Legendary Assassins
Hong Kong premiere
http://ent.sina.com.cn/m/c/2008-12-03/13242277632.shtml
http://ent.sina.com.cn/download/photo/langya.html
(stills)
http://ent.sina.com.cn/f/m/langya/index.shtml
Wu Jing and Celina Jade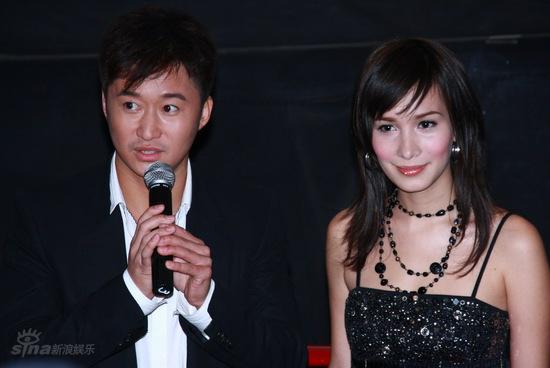 http://ent.sina.com.cn/m/c/2008-11-28/22022272294.shtml
(11/27/2008) The halls of the Louvre art world invited Taiwan's
world-class director Tsai Ming-liang to begin shooting VISAGES, which has
already been in production in Paris in two weeks. First it shot on
location in the sixteenth century Royal Garden Tuileries Gardens the
one-night stand between female lead Laetitia Casta and a buck. She sang
classic love songs at the Bucks provocatively. It was the scene that took
the most effort from the crew.
As for the buck it came from France's professional animal training
farm, Tsai Ming-liang as early as two months before the shoot, drove two
hours over thousands of miles away to the Manor to "audition" bucks. At
the official shoot four strong men were on hand to serve the buck at any
moment so the buck could make in front of the camera the gesture,
movement, expression and positioning that the director wanted; Laetitia's
love songs and body were so provocative though even the usually tame buck
behaved abnormally. Not only did it crash through the mirrors but also
ripped the over NT$2 million designer clothing on Laetitia. It even
attacked its trainer. That evening shoot took the staff three terrifying
nights to complete. However, Tsai Ming-liang saw the raw footage and was
100 per cent satisfied with the results. Next week he will begin a more
major scenes and shot at ten locations in the Louvre for the first time.
http://www.geocities.com/Tokyo/Towers/2038/081127.txt
Three Hong Kong releases, two less than great
DECEMBER 2 2008
Just as Hong Kong films are becoming fewer and fewer, sometimes
to the point of without a trace, this week has seen the releases of BEAST
STALKER (JING YUN), NOBODY'S PERFECT (JUET DOI SEUNG GIU) and BALLISTIC
(DAN DOH), which is considered much rarer. Of course, during the Hong
Kong film peak, three simultaneous releases are considered few and not
many; but now is not then and the world is truly different.
The most attractive is BEAST STALKER, which proves that Hong Kong
films can still work hard in the face of adversity. Movies with specialty
would receive audience support. Unfortunately the other two are less than
great, NOBODY'S PERFECT is simply nonsense, alluding to Taiwan's Chen
Shui-bian assassination, BALLISTIC looks the part but is not and has no
way to become a surprise hit.
NOBODY'S PERECT is a comedy adventure of the two Ah Gius, an
arrogant smart girl and an naive silly girl who all of a sudden magically
switch bodies. Comedy ensues just like that and the film is childish
and mentally deficient. Stars Stephy Tang Lai Yun and Kary Ng Yu Fei
sometimes play smart and sometimes play dumb, but both are exaggerated
distortions. Leads actor Sammy and the other co-stars are also excessively
comic book like, active on stage Leung Cho Hiu as a playboy is especially
artificial.
Since MARRIAGE TO A FOOL, writer and director Patrick Kong (Yip
Lim Sum), leads Stephy Tang Lai and Alex Fong Lik Sun have become a
popular new era romantic comedy combination. They have continued to make
LOVE IS NOT ALL AROUND (SUP FUN OI) and L FOR LOVE L FOR LIES (NGOR DIK
JUI OI) but the more movies they have made, the less true romance and the
more hoax they have had. By the time of the Alice Tzeng Hoi Won starred
SECRET (CHUN OI DIK), the haunted layout even failed. Now NOBODY'S
PERFECT is a foolish film. This year Yip Lim Sum has been very
productive, but his taste has gone backward.
As for the Lawrence Ah Mon (Lau Kwok Cheung) directed BALLISTIC,
its production scale is not small scale. I is a rarely seen in Chinese
cinema in recent years, based on the true story political thriller that
has turned the Chen Shui-Bian presidential re-election bid assassination
case into a complicated conspiracy. It even claims that later the
official investigation hides the truth as a series of silencing murders
take place. Even though it is a fictional story, it is less than
convincing and hard to believe as it cannot form any intensely thrilling
drama.
The male lead actor is Taiwan male star Joseph Chang (Cheung Hau
Cheun) who plays a fierce detective with integrity, Hong Kong's Simon Yam
Tat Wa, Lam Ka Tung and Liu Kai Chi co-star. It even has experienced
Taiwan male star Ko Chun Hung, Cheung Kwok Chu and female star Alice
Tzeng Hoi Won in support. Due to the absence of real material, actors
cannot perform well. Better acting comes from Cheung Kwok Chu who is in
his form as the sly and evil conspirator; the actor who is supposed to be
Chen Shui-Bian looks the part but does not have a lot of screen time.
BALLISTIC's format is somewhat similar to 1970 well-known foreign
political thriller THE DAY OF THE JACKAL, but falls far short of the
level. Actually now being anti-Chen Shui-bian is also difficult to lead
to any interest. - SHEK KEI
http://www.geocities.com/Tokyo/Towers/2038/081127.txt
BEAST STALKER ACHIEVES ADVERSITY IN TOUGH TIMES
The battle between the police and criminals is still the strength
of Hong Kong films. The Nicholas Tse Ting Fung starred, Dante Lam Chiu
Yin directed new film achieves explosive impact and intense atmosphere as
it leads with its opening box office.
BEAST STALKER starts with realism and ferocity, as well as Hong
Kong's significant city features. From the coffee shop gathering, the
police's thrilling case resolution, to the car chase and car crash,
people, situation and action are uncommon and constitute a surprisingly
strong tragic drama.
The main story is a conventional child kidnapping case that
demands in lieu of money court evidence destruction as the ransom, which
is similar to the foreign film Hong Kong film adaptation CONNECTED (BO CHI
TUNG WA) but better. Because of its attention to detail, both the
direction and acting are on display significantly.
BEAST STALKER emphasizes the ominous clouds days, people have an
instant misfortune. The lead characters all have suffered from major
setback, downfall, but refused to give up as they attempt to save the
save others and themselves at a crisis and adversity. In addition to the
film's action stimulation, it also pays attention to life's challenges,
emotions and fighting spirit that enable actors to have outstanding
performance.
Tse Ting Fung plays a strict and responsible young sergeant who
is unflinching to subordinate's littlest mistake and cannot forgive his
own. He risks everything to save a little girl in order to atone, but
good intentions may lead to bad consequences. Would his full force
compensation subsequently bring more tragedies? This is the character
with the strongest personality and the most conflicted destiny in Tse Ting
Fung's film career.
Nick Cheung Ka Fai plays the one-eyed kidnappers who is very
cold-blooded and cruel, unlike the average madman villain this career
criminals is acting out of love and is also a complex character. There is
veteran cop Liu Kaichi who has been on the job so long that he is
disillusioned and downtrodden yet he remains loyal. A number of
supporting roles are decent, among them the cop cousin is very intricate.
Actress Zhang Jingchu plays a prosecutor whose daughter is
kidnapped, the film's most far-fetched character whose personality is not
as clear cut as the male characters. Fortunately this Mainland actress
has variety, from PEACOCK to SEVEN WORDS, PROTEGE to this time she has had
different images, each with its own attractiveness. The other female
character is new comer Miao Fu, who has to play her pitifully paralyzed
character in bed but also has a good expression.
The story's layout also has its tricks. A car accident affects
three groups of people, the inspiration may perhaps come from BABEL's
Mexican director Inarritu's old film AMORES PERROS.
Strictly speaking this movie's story is still piled on, the good
news is that director Lam Chiu Yin is in good shape, with impulse, love
and honor he also has a good cast. he this year actually has made SNIPER
first, but it has not been able to be released. Perhaps due to one of its
lead Edison Chen Koon Hei's scandal, no one knows when will its "ban" be
"lifted". - SHEK KEI
http://www.geocities.com/Tokyo/Towers/2038/081127.txt
Kelly Lin and Ge You at 'Breathless' /Gasp press conference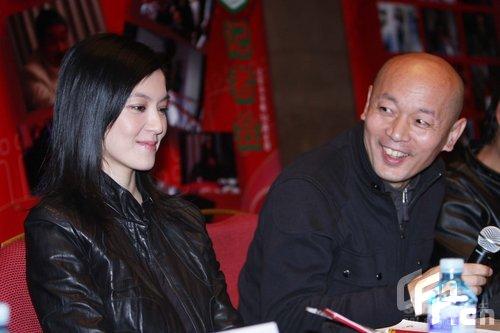 http://ent.sina.com.cn/m/c/p/2008-12-05 ... 0733.shtml
John Savage to star with Ge You in Chinese drama Gasp
http://asianfanatics.net/forum/John-Sav ... 98418.html
EEG has denied reports that Edison Chen and Gillian Chung will make their comeback together
http://asianfanatics.net/forum/EEG-has- ... 05890.html
Bernice Liu very happy to be able to speak English in a film for the first time in "The King of Fighters"
http://asianfanatics.net/forum/Bernice- ... 05659.html
'Cape No. 7' heads for the Oscars; Wei Te Sheng uses prize money for new movie,
http://asianfanatics.net/forum/-Cape-No ... 05909.html
Anita Yuen used her son's money for charity
http://asianfanatics.net/forum/Anita-Yu ... 05664.html
Tony Leung Kar-Fai carries sick woman to hospital
http://ent.sina.com.hk/cgi-bin/nw/show. ... 106/1.html
Painted Skin - A supernatural love triangle
http://www.taipeitimes.com/News/feat/ar ... 2003430387
Aaron Kwok plans stage play for 2011
And another fall-through-hole-in-the-stage incident
http://asianfanatics.net/forum/Aaron-Kw ... 05903.html
Teresa Cheung swears in as American citizen
(No one outraged!)
http://asianfanatics.net/forum/Teresa-C ... 05902.html
http://sg.news.yahoo.com/cna/20081205/t ... bb342.html
Karen Mok unveils new fragrance in Taipei
http://ent.sina.com.hk/cgi-bin/nw/show. ... 318/1.html
From the bottom of Jaycee's heart, a new album
http://asianfanatics.net/forum/From-the ... 05899.html
http://sg.news.yahoo.com/cna/20081205/t ... bb342.html
Actress Yu Nan Poses 'For Him'
http://english.cri.cn/3086/2008/12/05/1261s430136.htm
Taiwan Pop Stop
http://www.taipeitimes.com/News/feat/ar ... 2003430323
Yeh Yong-jeh clarifies rumors on Ivy Li's death
http://asianfanatics.net/forum/Yeh-Yong ... 05901.html
London Calling: Crime gangs put 30,000 pounds bounty on sniffer dogs (again!)
http://timesofindia.indiatimes.com/Worl ... 793260.cms
August 2007 - New York
http://cityroom.blogs.nytimes.com/2007/ ... w-york/?hp
March 2007 - Malaysia
http://www.iht.com/articles/ap/2007/03/ ... Bounty.php
http://www.foxnews.com/story/0,2933,261182,00.html
(This must be what they mean by 'news re-cycle'.)