Red Cliff, Part 2 posters unveiled
http://ent.sina.com.cn/m/c/2008-12-24/10232310766.shtml
Regrets stripping; Shu Qi talks about her past
http://asianfanatics.net/forum/Regrets- ... 11491.html
Joe Nieh, Vivian Chow already married 10 years ago
http://sg.news.yahoo.com/cna/20081224/t ... bb342.html
(wedding advert)
Golden Gate Bridge circled
http://news.xinhuanet.com/ent/2008-12/2 ... 550405.htm
Aaron Kwok, Ekin Cheng the Earthshaking Heroes
http://sg.news.yahoo.com/cna/20081224/t ... bb342.html
Fruit Chan and Cui Jian to collaborate on Chengdu film ''Chengdu I Love You"
http://www.thestandard.com.hk/breaking_ ... r=20081224
Michelle Ye scenes in Lady Cop & Papa Crook edited/censored due to organized crime/triad content
http://img.sina.com.hk/news/13/2008/122 ... K77B5Q.jpg
http://ent.sina.com.hk/cgi-bin/nw/show. ... 387/1.html
Chie Tanaka sees future in Chinese-language cinema
http://sg.news.yahoo.com/afp/20081224/t ... c2b55.html
China Film secures $88m loan from Bank of Beijing
http://www.screendaily.com/ScreenDailyA ... &Category=
Warner Bros. skips China release for 'Dark Knight'
Edison Chen (all 3 seconds of him) or fear of offending censors for portrayal of Chinese
http://www.iht.com/articles/ap/2008/12/ ... Knight.php
Cultural sensitivities cited
http://varietyasiaonline.com/content/view/7740/1/
Review: Johnny To's playful 'Sparrow' takes wing on cool breeze
http://www.mercurynews.com/movies/ci_11292707
2. MING PAO DAILY, DECEMBER 16 2008, FILM WORDS
WINDS OF SEPTEMBER (Taiwan Chapter) ACHIEVES YOUTH REALISM
New people and new climate are emerging in Taiwan film. Although
WINDS OF SEPTEMBER cannot be like CAPE NO. 7 as a box office miracle, it
was well received and also won a Golden Horse for best original
screenplay. Indeed it is an excellent Chinese school youth film.
The Tom Lin Shu-yu written and directed, (Henry Tsai Chung-han
co-written) WINDS OF SEPTEMBER is about seven male high school students
who became "brothers" in Hsinchu, Taiwan in the 1990s. The film started
with them at a professional baseball game, which was cheerful, vivid and
full of life, naughty, hearty, and real vitality of youth.
Male buddies often would be unruly and punished with demerits, the
good news is the film did not go too far to concoct a radical rebellion,
rage and violence, did not indiscriminately fault social wrong, family
mistake, education error, or the worst of human nature, but a
semi-autobiographical display of normal way of growing up. In the film
the boys only sometimes gather for joy and are very immature, which
actually is normal. They are not bullying gangs but good and honest
students.
Due to the adolescent struggle of love and sex, the loyalty scores
of brothers, and the unpredictable and inevitable accidents of life, this
group of boys has severe conflict that also leads to disaster and changes
the fate or the state of mind. WINDS OF SEPTEMBER has not become dark or
pessimistic. The latter section's 1997 graduation song is wonderful and
moving to keep the outcome bright and sunny.
The two main characters are outstanding: handsome mixed heritage
Yan (Rhydian Vaughan) looks a bit like Tom Cruise and gets into romantic
trouble; the academic type Little Tong (Chang Chieh) has a crush on Yan's
girlfriend and constitute a subtle triangle. As for other boys the trio
in a motorcycle storm are exceptional, several girls are also attractive.
This is WINDS OF SEPTEMBER -- THE TAIWAN CHAPTER. Producer Eric
Tsang Chi Wai first saw this script, supported the production, and even
enabled new Hong Kong and Mainland directors to make two other versions.
The Mak Hei Yun written and directed HONG KONG CHAPTER has been released
in Hong Kong earlier but is not professional enough. As for the Han Yan's
Mainland China chapter no one knows the result.
Earlier Chen Kun Ho's GROWING UP, Hou Hsiao-hsien's A TIME TO LIVE
AND A TIME TO DIE, Edward Yang Tak Cheung's A BRIGHTER SUMMER DAY all
described boys in secondary schools in Taiwan. Now Lin Shu-yu's
creativity is no match for his predecessors, at first the film is only
lively and fun, but as it plays on it has more and more dramatic flavor
and self-examination and better than the recent Taiwan girl homosexual
comedy MIAO MIAO.
Last year Jay Chou (Chow Kit Lun)'s Taiwan school film THE
SECRET of course was much more popular but was nothing sensational, the
youth realism was no match for this one. - SHEK KEI
http://www.geocities.com/Tokyo/Towers/2038/081211.txt
5. MING PAO DAILY, DECEMBER 11 2008, FILM WORDS
ALL ABOUT WOMEN IS VERY CARTOONISH
As early as the 1980s, Tsui Hark has made an action comedy PEKING
OPERA BLUES with three charming actress Brigitte Lin (Lam Ching Ha),
Cherie Chung Chor Hung, and Sally Yeh (Yip Sin Man), which was very
popular.
Now Tsui Hark has made a 21st century new actress trio comedy that
stars Zhou Xun, Kitty Zhang Yuqi, and Kuei Lun-Mei, and also invited South
Korea's MY SASSY GIRL director Kwak Jae-Yong to collaborate on the
screenplay. The film has become a very beautiful large-scale modern love
rhapsody. Tsui Hark remains very lively and active, cheerful and rich as
the film becomes a very interesting "Deluxe Chasing Boys" but it is so
comic book like that it is exaggerated and gimmicky. No one can ask for
the detailed and realistic mood.
ALL ABOUT WOMEN has made Beijing very modern and even science
fiction like. The invention of all purpose "love panacea" gives three
separate women romantic encounters. The main story is how to prove true
love amid the chemical reaction?
Tsui Hark's women romantic comedy cooks up cartoon action too. In
the film Zhou Xun is even more cartoonish than Plain Jane. Each time when
a man touches her she would be as stiff as a puppet, and her eyesight is
so bad she is almost blind. Guei Lun-Mei is a boxing and car racing rock
singer, of course she is very wild. Zhang Yuqi is a cold businesswoman
of a big business group. She has mesmerized many men. When her love
attacks she would be fiery passionate.
The film absolutely does not lack any strange antics, its
packaging is also trendy and eye-catching, along with wonderful dancing
and hit songs. Honestly though, I think it makes too much noise, too
much dancing and jumping, looking a bit like a special packaged monkey
show. Tsui Hark has always been able to keep the Monkey King like
naughty vitality, but often he is hyper-active and has difficulty with
self control. No one has been able to be like Buddha and tame the Monkey
King.
Speaking of which, Tsui Hark who excels in male heroes also loves
to shoot female charm. Aside from PEKING OPERA BLUES, THE SECRET (DIP
BIN)'s Michelle Mee (Mai Shuet), DON'T PLAY WITH FIRE (DAI YUT LUI YING
NGAI HIM)'s Lin Chen Chi (Lam Chun Kei), ALL THE WRONG CLUES (WAI MA JI
DOR SING)'s Yiu Wai, ONCE UPON A TIME IN CHINA II (NAM YI DONG JI KEUNG)'s
Rosamund Kwam Chi Lam, THE LOVERS (LEUNG JOOK)'s Charlie Yeung Choi Nei,
and his production A CHINESE GHOST STORY (SIN NUI YAU WON)'s Joey Wang Cho
Yin, SWORDSMAN II (DUNG FONG BUT BAI)'s Brigitte Lin (Lam Ching Ha) were
all outstanding. Tsui Hark's modern humn ghost romance THE MISSING (SUM
HOI CHUM YUN) this year also featured female star Angelica Lee Sinjie.
ALL ABOUT WOMEN cooks up new and wonderful gimmicks that are very
surreal. Actually Kwak Jae-Yong's Japanese science fiction film CYBORG
GIRL is even more surreal and also has a cartoon feel. Yet its drama
flavor is better. This time actress Zhang Yuqi is the most eye-catching,
Zhou Xun and Kuei Lun-Mei are a little strange. In addition, all three
divas are not Hong Kong female stars, among the actors Stephen Fung Tak
Lun and Alex Fong Chung Shun are from Hong Kong. - SHEK KEI
http://www.geocities.com/Tokyo/Towers/2038/081211.txt
Charlie Yeung shoots hair shampoo advert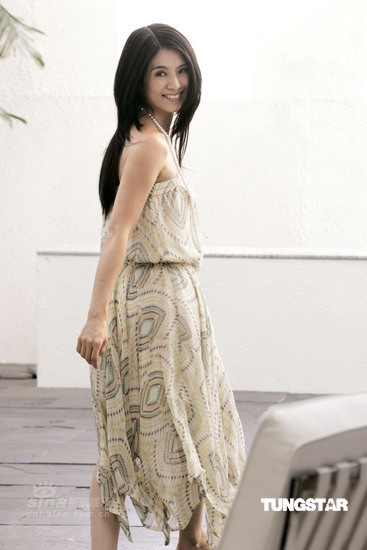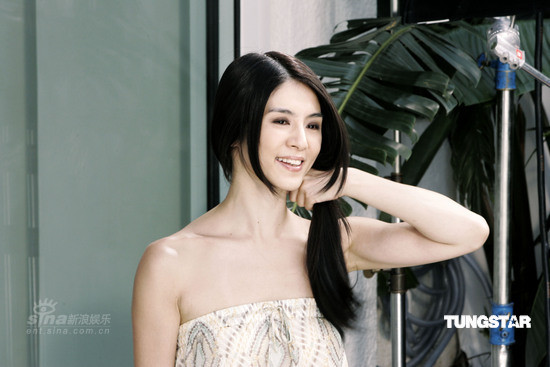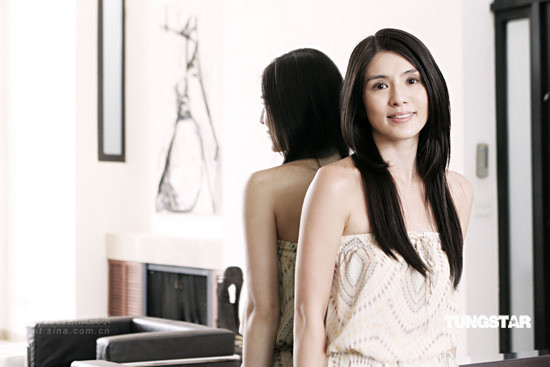 http://ent.sina.com.cn/s/h/p/2008-12-24 ... 1145.shtml
If You Are The Oneâ€