Aliases: Shut-Ma Saan, Shih Ma-Shan, Shima Koji, Takehiko Kagoshima
Born: January 16th, 1901 - Died: December 10th, 1986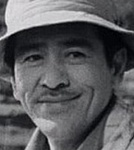 Biography
With his birth name Koji Shima, Shih Ma-Shan was a Japanese native born in Nagasaki city of Nagasaki prefecture. He was one of the first graduated of the Japan Academy of Moving Images. He started his film career as an actor, and starred in films by various renowned Japanese directors. Shih began directing at the age of 38 with his debut ''Skylark''. His later works were also well received in Japan. During the Second World War, he had directed several films in different genres and were all proved to be successful. He was enlisted in the army in 1943. After the Second World War, Shih's pragmatic style began to shift towards commercial. ''Golden Demon'' of 1954 became his masterpiece that won Best Picture at the First Southeast Asian Film Festival. Shih was invited to Hong Kong in 1969 to direct the thriller ''Dear Murderer'', musical ''Tropicana Interlude'' and ''The Orchid'' in the stage name of Shih Ma-Shan. His last film was ''Love Song Over the Sea'', co-directed with Kuei Chih-Hung. (From the Celestial DVD release of ''Tropicana Interlude'').